Children's Books
The production of a series of four children's books featuring a camel called 'Harry' has been central to the development of the foundation. The books are written and illustrated by Dr Alex Tinson. The evolution of the character from a lazy selfish camel to one that starts to think about his surroundings and his friends is crucial to the HEF message for young children. The books highlight certain endangered animals from both the Arabian Peninsula and the subcontinent with a message in each book from Harry thanking the children for their support.
The books, in full color are published in Arabic and English by Express-Aim and are currently distributed throughout the Gulf States and Saudi Arabia. A second series of additional four books will continue Harry's adventures and evolution as he goes to school and becomes a dedicated conservationist.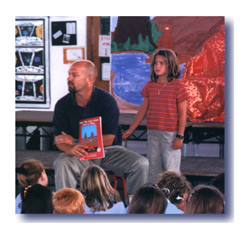 Conservation Hamloul
Conservation Hamloul represents part of the evolution of the Harry the Camel character. With the help of the Emirates Environmental Group and Coca-Cola the project was put together under the patronage of H.H. Sheikha Latifah bint Mohammed al Maktoum. Since the project was directed at Arabic and English speaking students we used an Arabic camel name that sounded a lot like Harry. The children and their teachers receive a project booklet, which allows the issues and the competition to be discussed and worked on in the class.

Conservation Hamloul teaches the children ways in which everyone can help protect the environment. There are five areas of focus with the Hamloul project.

1. Save Water Hamloul. 2. Recycling Hamloul. 3. Environmental Hamloul.
4. Learning Hamloul. 5. Scientific Hamloul.

Generous sponsorships from Emirates Airline, Acer Computers and Coca-Cola have provided a trip to Melbourne zoo, Australia and personal computers to the winners of the Hamloul competition.