Two-Humped Bactrian Camels
(Camelus bactrianus)
Stretching like a lunar landscape and bound by two of the world's highest mountain ranges, the Great Himalayas and Karakoram, lies the plateau of Ladakh - home of Buddhist and Muslim traders and nomads living in a land modern times have passed by.
The Two-Humped Bactrian Camel was introduced to Ladakh by traders of Yarkland in the 19th century along the famous silk trails that wove their way through the Great Himalayas.
As these trade routes closed in the early fifties, the Two-Humped Bactrian Camels came to stay in Ladakh with their local traders.
Aggression by the Chinese into Tibet saw the border closed and the presence of the Indian Army. This resulted in the expansion of roads and the shifting of these unwanted creatures to Nubra in Ladakh. Recent conflict has also made the situation even more acute.
In 1986 there were only 45 Two-Humped Bactrian Camels left in Nubra.
The death of their young is common due to attacks by wild wolves and drowning in the Shyok River.
The HEF Foundation has been approached by the Indian Government to provide scientific and educational support to increase the herds of Two-Humped Bactrian Camels in the Ladakh region.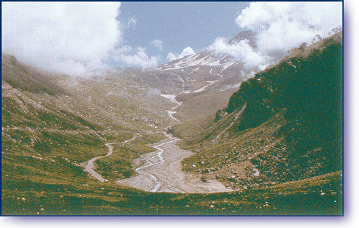 The Wild Frontiers of the Nubra Valley in Ladakh